Angel Therapy Holds the Promise for a Better Life
Therapists tell us to listen to what our guardian angels have to say

By Elena Gorgan, Life & Style Editor

We've all heard the story of how each of us has a little angel and a little devil on our shoulders, whispering into our ear what to do, and trying to convince us to go one way or the other. From what the recently ever-popular Angel Therapy, the part about the angel is true – each of us has one, if not actually more guardian angels and, for us to have the life we've always dreamed of, suffice it if we listen to what they're telling us.Angel Therapy already has a loyal following in the US, with other countries coming up close. There are also Angel Therapy Practitioners, meaning people who have the skill to connect with our angels, either on their own, thanks to some supernatural sense we lack, or with the help of the angel of a dead person, and who are able to tell us what to do. Most of them have learned the hard way what ignoring one's angel can mean and this is why, they say, they have decided not to let others make the same mistake they made.
Liz Jones of the Daily Mail discovered Angel Therapy as she was seeking for alternate methods to save her cat's life, as it had been diagnosed with liver and kidney failure. Thus, she discovered Doreen Virtue, a US Practitioner and many others, who have not only cured Snoopy the cat, but also guided her way to achieving happiness.
"Angels have soft, feathery wings. They always talk about, and act from, love. Everyone has guardian angels who guide and protect us. The angels can't force their help on us, however, since we have free will. We must ask for their help. Evil people don't listen to their angels: their angels stand by with 'wings tied' unable to intervene because God created us with free will." Mrs. Virtue tells Jones about how each of us has one or more guardian angels.
There are, it seems, two types of angels, both acting in our best interest – "past-life angels that give you 'horrible nudges' so that you will do better in the next life, and guardian angels, which direct you in your everyday life." Jones writes, after speaking to several such Practitioners. And, if listening to this kind of mumbo-jumbo is not exactly our cup of tea, we can always start listening to what our angels are telling us without paying money to a therapist.
We can do so, Jones says, by following what seems to be our intuition. For instance, the first time an idea or a new thought comes to our mind, we should know that it is that one that we must follow because that's the voice of our angel(s), telling us which should be our next move.
"You have to think of your angels as your team. You are never alone." Sohini Patel, another Practitioner, advises Jones. In the end, even if it's not really angels doing all this good for us and watching our back all the time, at least it's good to think that we are never alone in life and that we deserve to be happy, Jones concludes.
Source: By Elena Gorgan, Life & Style Editor
If you want to learn how to become and Angel Therapist then Luna Online Home Studies has a great online course so you can start learning how to contact your angels and guides now.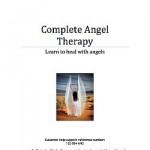 Enrol Today