Understaning Proteins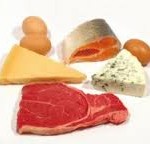 Proteins are complex organic compounds. The basic structure of protein is a chain of amino acids. Every cell in the human body contains protein. It is a major part of the skin, muscles, organs, and glands. Protein is also found in all body fluids, except bile and urine.  You need protein in your diet to help your body repair cells and make new ones. Protein is also important for growth and development during childhood, adolescence, and pregnancy.  Protein-containing foods are grouped as either complete or incomplete proteins.
Also, pregnant women have special dietary needs, such as supplementary calcium, vitamins, minerals and water. Folic acid must be supplemented even before pregnancy.
Complete proteins contain all nine essential amino acids. Complete proteins are found in animal foods such as meat, fish, poultry, eggs, milk, and milk products such as yogurt and cheese. Soybeans are the only plant protein considered to be a complete protein.
Incomplete proteins lack one or more of the essential amino acids. Sources of incomplete protein include beans, peas, nuts, seeds, and grain. A small amount of incomplete protein is also found in vegetables.
In general, animal proteins are considered good sources of complete proteins. Complete proteins contain ample amounts of all essential amino acids. On the other hand, vegetable proteins (grains, legumes, nuts, seeds, and other vegetables) are incomplete proteins because they are missing, or do not have enough of, one or more of the essential amino acids.  However incomplete proteins do not pose a problem as you can combine vegetable proteins to make complete proteins.
Health & Nutrition Diploma Homestudy Courses
Product Description
This set of accurate, easy-to-use nutrition kitchen scales can be used by everyone, and is ideal for those with special dietary needs and for individuals conscious about their intake. The built-in database stores nutrition information for 999 kinds of commonly used food products and ingredients. All nutritional values entered using accurate USDA National Nutrition Database.
Provides accurate count of calories, fat, cholesterol, salt, fibre, protein and carbohydrates
Built-in database stores nutritional information for 999 commonly used food products and ingredients
Nutritional values are clearly displayed
3kg maximum load (imperial or metric measurement)
Graduation 1g
Tare function
Overload indication
Low battery indication
Batteries supplied
| | |
| --- | --- |
| Battery | 3Vdc (2 x AAA) |
| Max. load | 3kg |
| Dimensions | 158 x 128 x 105mm |
| Weight | 750g |