Accreditation of your Courses
International Institute of Complementary Therapist's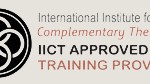 IICT:  We are proud to announce that the IITC have recognised Luna holistics as professional and accredited Training Providers. This accreditation board is also recognised in the UK and Australia /New Zeland. All your qualifications from now on will show that your course has been recognised by the IICT  the AADP and the IPHM. As a qualified student of Luna Holistics you will have the added advantage of being able to apply to be a board certified practitioner with the above awarding bodies and to request practitioner holistic insurance. 
Latest New Course - Energy Healing
Our latest course in energy healing will be available at the end of February. This is a great way to introduce you to holistic and alternative therapies and will offer an overall basic training that will aid you in whichever therapy you decide to progress in. It will cover all aspects of energy healing and even if you are already familiar with other therapies you will find this course a great compliment to other treatments. This course will offer a fully accredited certificate on completion and will be available for a discounted price to any student requesting an interest before 1st March 2012.
Student Library
Our new student library is now open and available to all students. When you enrol in any course we will send you a link to the new library where you will find helpful training videos, further reading and products relating to your chosen subject that you may find helpful.
Enrol and start your new career today – visit Luna Holistics for a full range of courses