Meet the Seven Archangels
Archangel Michael – Protection, Courage/Strength, Truth
Archangel Raphael – Healing, Mind And Spirit
Archangel Chamuel – Unconditional Love
Archangel Gabriel – Guidance, Vision And Inspiration
Archangel Jophiel – Awakening And Wisdom, Joy And Illumination
Archangel Uriel  -  Peace/Tranquillity, Service And Devotion
Archangel Zadkiel – Tolerance, Forgiveness
Angel healing  is based on the view that communicating with angels is the key to healing. Angel therapists believe they help to heal their patients by getting in touch with the angel who guides the patient in the right direction.
It is not necessary to be clairvoyant or a medium to experience the joy and pleasure of angels. You do not need to see angels to experience them. A majority of people feel that they are never completely alone, can feel their angel presence enfolding them, guiding them and helping bring comfort, healing and wisdom.
This Angel healing therapy shows how to bring in the love and joy that angels surround us with. In this course you learn how to invoke and commune with your angels, how to use essential oils and crystals for healing and drawing angelic visitations.
Wherever it has been possible we have incorporated pictures and diagrams to help you understand the subject and practice of  Healing with Angels.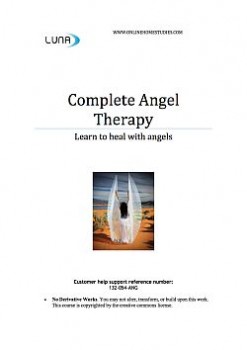 Accredited Angel Healing Courses