Benefits of Massage without a spa or club
Published on 12 March, 2013 | alternative therapies
Benefits Of Massage Without A Spa Or Club
By Jodi Garrett

It is easy to get the benefits of massage without a spa or club. Getting a massage frequently can do more than make you feel pampered. It is therapeutic and available for the home, in the office, or anywhere you are feeling the need to relax or relieve tension in your body. There are chairs, cushions, hand held accessories, shower heads, and foot baths affordable for any budget and easy to find.
In addition to simply feeling wonderful, massage also provides therapeutic benefits. It enhances immunity, stretches weak or tight muscles, increases joint flexibility, improves circulation, releases endorphins, lessens depression and anxiety, and relieves migraine pain.
The massage chair and cushion have rollers built inside that press, knead, sweep, and roll up and down your back, simulating Shiatsu and Swedish massage. This motion relieves tension in specific locations of the body and improves stronger circulation. The chair or cushion is used in the home, car, and the office because of the strapping system used to fasten them to any chair.
To relieve tension or muscles knots that come along with sitting at a desk or peering into a monitor for hours on end, the hand held instruments are perfect.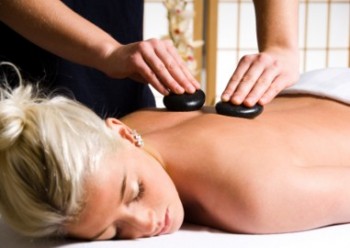 They are easy to store on or inside a desk. One instrument has round knobs and is for use on pressure points to relieve sore muscles and knots. A second type is a roller, effective for relieving tension and relaxing tight muscles. A third type, made of copper or metal prongs, is used on your scalp. It is used often as a novelty because a person feels shivers and tingles throughout their body while relieving pressure and stress on your scalp.
The shower head has been on the market for decades, so popular that some hotels and motels now have them in rooms. There are many styles to choose from. You can personalize the pressure and pulse of the water to create a refreshing and invigorating experience. Circulation is also improved while washing away the dirt from the day and relieving tension.
A foot bath or spa is often thought of as a luxury or pedicure. True, but they also offer health benefits. They relieve stress that has an impact on blood pressure, anxiety, pain, and even digestive problems. Also, the massaging effect of the warm water bubbling around your feet helps to rid your body of toxins that have weakened immune systems and has other negative impacts on health. After this experience, the body feels restored, refreshed and pampered.
Massage is fast becoming popular with people from all walks of life. All of the tools listed in this article are available at specialty stores, drug stores, discount stores, on line and department stores. Prices vary from a few dollars to over one hundred dollars. Comparative shopping will produce the most savings.
Due to busy schedules or limited budgets, many are neglecting their health.
However, the benefits of massage are available without going to a spa or club.
When traveling or at work, it is possible to have relief from tension and soreness that is affordable, convenient and beneficial to health.
About the Author: Jodi Garrett's Profile | Jodi Garrett's Articles
Jodi Garrett is the owner of Massage Chairs Pro which sells Massage chairs and massage related products. Her studies involving massage, stress and pressure points, Jodi understands the benefits of massage, and it can be just what the doctor ordered. Massaging for as little as 15-20 minutes a day can relieve stress and tension that cause headaches, muscle soreness, back aches and cramping that harmfully affect our bodies. Regular massage treatments have also been shown to reduce or eliminate symptoms of restless leg syndrome. For 20 years, Jodi has owned her own salon in Marietta Georgia and has extensively researched massage chairs and products. She now offers them to you at wholesale prices. Knowing how valuable everyone's time and money is these days, she takes saving both very seriously and has made these products available to you in your own home or office for your pleasure any time of day. Massage chairs, and tools and accessories come in many forms and price points from the highest quality and the latest technology to meet your needs.
Artice Source: http://www.articlesphere.com/Article/Benefits-Of-Massage-Without-A-Spa-Or-Club/264110
Basic Aromatherapy –  Advanced Aromatherapy –  Indian Head Massage –  Reflexology –  Hot Stone Massage –  Swedish Massage  (6 courses included in package offer)

Take a look at our completed Massage Package Offer – Home Study Training Courses