Jasmine essential oils – aromatherapy
Published on 10 July, 2013 | Aromatherapy
JASMINE ABSOLUTE (Essential Oils)
(JASMIN OFFICINALE, JASMINUM GRANDIFLORUM OR JASMINUM SAMBAC).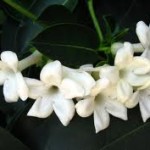 This evergreen shrub or climbing vine has delicate leaves and star shaped white flowers, which are very fragrant in nature. The Rose is known as the 'Queen of oils' but the Jasmine is considered to be the 'King of Oils'. It is very costly to make and is therefore, like rose, one of the more expensive essential oils. The flowers are best plucked at night, as the perfume is at its strongest then and the method of Enfleurage is used in extracting the essential oil so the labour costs are high. As with Rose and jasmine  essential oil, very small amounts of Jasmine essential oil are needed for treatment.
Most Jasmine absolute essential oil originates from the Grasse region in France, although Jasmine is found in China, Northern India, the Mediterranean and Asia. The dried flowers are used to make Jasmine tea.
Jasmine is known as a warming and relaxing oil emotionally. It is useful where people who have depression also feel lethargic an unmotivated or have feelings of low self esteem.
Like Rose essential oil, Jasmine is a beneficial uterine tonic, good for painful periods and cramps, although Marjoram is just as effective and less expensive. Jasmine can be used to good effect during childbirth, used in a carrier oil during the early stages of labour on the abdomen and lower back to act as pain relief and to make contractions stronger. As Jasmine is also an anti-depressant this too can help you to avoid post-natal depression.
Sexual dysfunction is often a result of stress and anxiety; Jasmine can be of use in this area too. Jasmine has long been known as an aphrodisiac. Jasmine is also a success in skincare products and is particularly useful for dry and sensitive skin. Once again only a little of the essential oil is necessary, added to a base cream as described in Part Two of the course.
extract for part 2 of Introduction to Aromatherapy Certificate Course
SOTO Aroma Diffuser – White with Colour Changing Mood Light – Ultrasonic, Aromatherapy, Ioniser
From Zen

| | |
| --- | --- |
| Price: | £45.95 & eligible for FREE Super Saver Delivery. |

Availability: Usually dispatched within 24 hours
Dispatched from and sold by WOWOOO

2 new or used available from £43.50

Average customer review:
Product Description
Watch the aromatic water vapour gently drift up from the funky glowing funnel and relax as the fragrance drifts over you. Bliss.
Utilising ultrasonic technology, the Bliss aroma diffuser breaks up the blending of essential (or fragrant) oil and water into mist of micro-particles and disperses them into the air. Benefit from the aromatherapy of the oils, and the ionising and humidifying effect of the water vapour.
No heating or burning means the properties of the oil are not broken down.
Low energy use. Safe auto off when water runs out.
Available in range of colours and different models:
ENSURE All Departments IS SELECTED IN THE SEARCH DROPDOWN TO SEE BEST PRICING
Search for B001T86I1C for the Aqua Bliss
A great gift for anyone, including yourself!
---
Product Details
Amazon Sales Rank: #2666 in Consumer Electronics
Brand: Zen
Features
1: Revolutionary way to fragrance you surroundings also a Mini Humidifier, Air Purifier and Ioniser
2: Easy to use. Requires tap water and a few drops of your favourite fragrance or essential oil
3: Rich colour changing LED soft mood lighting, with favourite colour selection & lights off modes.
4: No heat source so no degradation of oil and safe
5: New shape, beautifully packaged. Makes a great gift. Approx 17cm across, 12cm high.    ORDER YOURS NOW