The Chariot
Published on 13 November, 2011 | Simply Tarot
The chariot – Tarot Card Meaning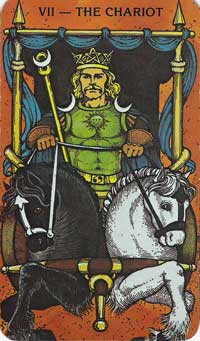 This card represents ambition, determination and the ability to move ahead. It can represent travel and the reason for a specific journey. If the world card is also in the same spread this can be foretelling of a visit over-seas.
Journeys
This card can relate to spiritual journeys as well as physical.  Either way you are in the drivers seat  and are creating your own destiny. This card has also often come up when a client is thinking of buying a new car.
Chariot and Work
If enquiring about work drawing this card can represent  a project that you have been working on for a long time is about to come to fruition. This is a time to focus on your goals and not be discouraged.
Chariot and Romance
This could show someone who has little time for romance and emotional involvement may not be part of your present plan. You may be going away for the weekend with someone, however you will be more interested in the place you are visiting as opposed to the person you are going with.
Chariot and Money
You may be spending money on a car. Anything to do with debt and credit cards will now show that you will soon  be in a position to pay off any outstanding debt.
Chariot and Health
Watch your diet and avoid overexertion of any kind. This card can show  you maybe suffering from some form of nervous disorder but can also indicate that any chronic health problems will improve significantly.
Learn How to Read Tarot
If you would like to learn how to read tarot and train as a professional reader then our tarot course will take you step by step from complete beginner to professional reader. Even if you have been reading the cards for a while you will find the information in this course valuable to help with your readings.
Professional Tarot Accredited Diploma Course – Enrol Here