LUNA HOLISTIC HOME STUDIES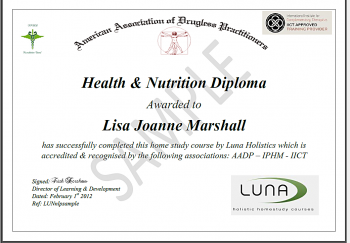 This could be displayed on your wall or therapy room within a matter of weeks. Have you thought about a new career as a holistic therapist. Many of our students have gone on to work as professional therapists, many working from home so they can spend quality time with their children and family whilst still maintaining a very rewarding and fulfilling career.
Aromatherapists have always been in great demand however Crystal and Colour Therapists are now working more than ever as people are turning to this form of treatment as an alternative to conventional medicine.
As more people now realise the benefit of Feng Shui we have seen this become more and more popular. Known to transform homes and business and to attract wealth its not surprising that professional feng shui experts are in great demand.
Hair salons and beauty salons now offer more than just basic treatments, for instance a good hair salon will now also employ a professional indian head massage, and many also offer hopi ear candling as an add on service. It has never been a better time to become involved in alternative and holsitic therapies.
Accredited Training Courses at home
All our courses are fully accredited and offer a professional qualification so that you may legally practice your therapies. We have been the leading experts in holistic therapies for over 5 years and are continuing to grow. So why not take a look at starting a new career and be amazed at how affordable it can be. We also train Tarot and Palm readers.
See our Holistic Package Offers – Your new career starts here